I got my v911 RTF package yesterday and here is my quick review & first impressions, lets do the technical first.
Heres a video of me practicing with my v911: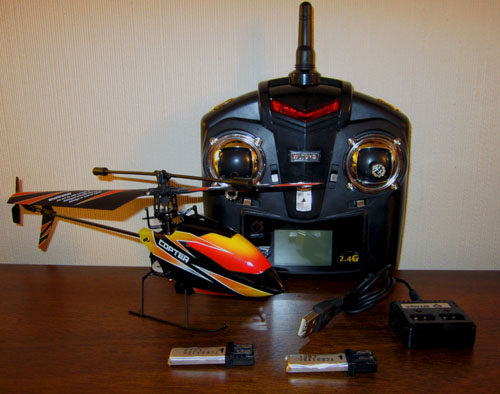 RTF Package contains:
1x v911
2x LiPo
1x Charger
1x Tailrotor
1x Mainrotor set
1x Transmitter
1x Manual
This helicopter is a clone of the Align T-Rex 100, a very good one in my opinion and many others. My previous experience with rc helicopters are a few 4ch coaxes and one 4ch fixed pitch. I've never flown such a small 4ch fixed pitch helicopter before, the closest in size is the 4ch coax walkera 5#6. And if you ever flown a coax helicopter you'll get the hand of the v911 very fast!
I got it flying and hovering beautifully at second liftoff, first try went into getting used to the transmitter. It blew me away how stable and well it flies, compared to my honey bee fp2 the tail motor and gyro is in another league. The v911 never misses the tail and keeps it stable 99% of the time. I'm truly shocked at how amazing this little thing is! I've had a few crashes
It also handles outdoor flying much more than any of my coaxes. I would really recommend this helicopter, for the price you can't go wrong!
Pros:
– Price & Quality
– Easy to fly & hover (Easy as a coax)
– Durable!
– Speed (compared to a coax)
– Handles wind better than a coax
Cons:
– Battery insert can be tricky
– Annoying sounds from TX