This new and exciting LRS system looks very promising.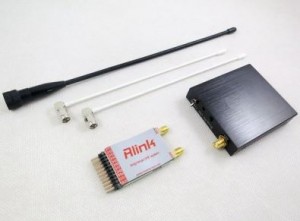 It's priced at around 150$ for a complete set, which includes a TX, RX, wires & antennas. I bought one set as soon as I've read some about it. Haven't had the time to test it other than binding and seeing that it works. I also measured the output power to around 7-900 mW in LOW and 1400-1700m W in HIGH. The power consumption are a little bit higher than most other LRS systems, but IMO it's not a big problem.
Range tests from users at rcgroups seems to be pretty decent, around 70 km in low power mode and with stock antennas.
Key Features:
Super high sensitivity as -115 dBm
RSSI output(analog buffered) in separated channel on the Rx side
Diversity
Frequency configurable from 410-510Mhz
Firmware upgradable
16 channels (using two RXs)
Handles any standard PPM stream
And the best of all, the devs are active on the rcgroups forum, they are also on skype and are very happy to help out there too.
Links:
Himodel.com – 133$ TX & RX
Royalway-tech – Makers of Rlink