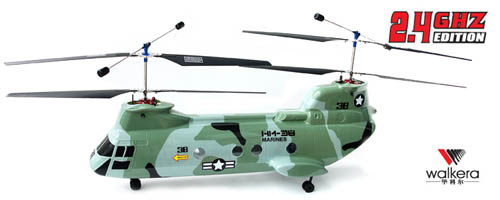 Walkera has released many new models this summer, but this one is different. It really sticks out.
But it's basically two 53# stacked onto the same frame, with some aluminum upgrade parts and 2.4ghz
system.
Specifications:
1).All-up Weight: 768g (Battery included)
2).Main Rotor Dia. B: 450mm
3).Main Rotor Dia. A: 450mm
4).Overall Length: 575mm
5).Battery: 7.4V 2200mAh Li-Po
6).Receiver: RX-2409
7).Drive System: 4 X 370SH
8).Transmitter: WK-2401
9).Servo: WK-7.6-3 weight 8.5g;speed 0.11sec/60o(4.8V); torque 0.9kg.cm(4.8V); dimension 22.5X11.5X24mm
And the price?
Miracle-mart.com – 199$
Rc-fever.com – 184$
Toy-easy.com – 235$
Rc711.com – 184$