It's been some time since my last blog about rc helicopters, so it's time for a new. There haven't been any changes for about 2-3 years, still got my Lama v3, Honey Bee FP2 & Walkera 5#6. Only one of them are in working condition, only the 5#6 can fly. My lama has a broken TX, and my FP2 misses some crystals(where did they go?).
So, I went back to RCGroups to check out the news on the rc front. And to my suprize quadcopters had really dropped in price! Walkera has some new neat models, the ladybug for example. They still cost, but not as much as those custom built ones. Of course you get what you pay for to some extent.
But I found a thread on the forums discussing about a new brand named WLToys, and their Blade MQx clone the V929. It has recieved very positive response, and many good reviews. Presumably it's very easy to fly, flies well and stable it can also take a beat. The main argument for getting it is the price which is around 40-50$!
The V929 is my entry into the quadcopter universe, I just ordered one from eBay 47$ including shipping!
Now for some tech specs.
WL Toys V929
Main Wing Diameter: 13.5cm
V929 BodyWeight: 61g
FlightTime: about 10 minutes
Charging Time: 50 minutes
Range: 100-150 meters
Power Supply: 3.7 V 500mAh Lipo Battery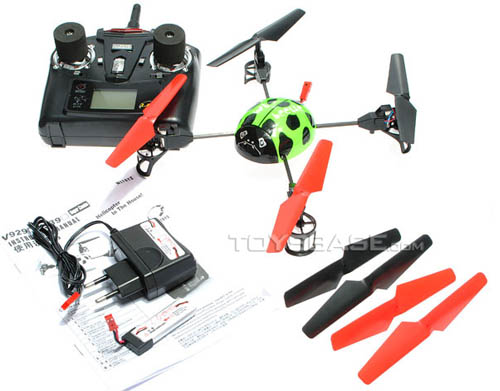 As a replacement for my FP2 I found another helicopter from WLToys the V911: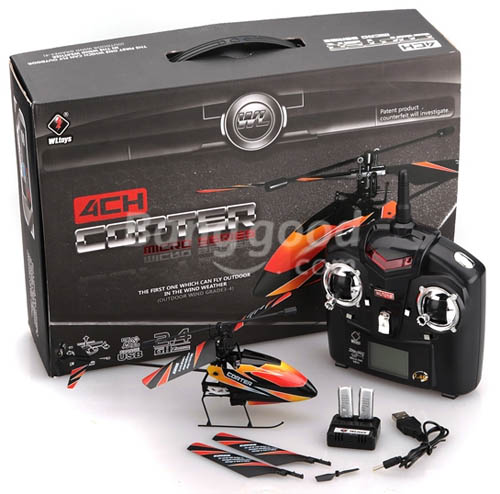 More about this model later!